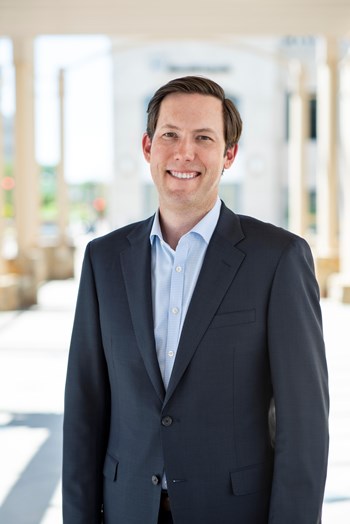 Michael Suggs
Principal/Broker
NAI Highland, LLC
Two North Cascade Ave, Suite 300
Colorado Springs, Colorado 80903
United States
T +1 719 338 4555
M +1 719 338 4555
suggs@highlandcommercial.com
Specialties
Land, Office
Scope of Service Experience
Born and raised in Colorado Springs, Michael joined NAI Highland, LLC in May of 2008. He has been active in commercial real estate within the Pikes Peak Region since 2003, primarily specializing in land and office transactions. He has represented land owners, developers, homebuilding companies, commercial users, healthcare providers, investment groups, lenders, tenants and landlords.
Background & Experience
Michael served as the 2016 Board Chair for the Board of Directors for Discover Goodwill of Southern & Western Colorado and currently serves on it's Foundation Board. Michael proudly serves on the advisory board of the Bruce and Anne Shepard "Reach your Peak Scholarship" at the University of Colorado at Colorado Springs and on the Board of the Penrose St. Francis Health Foundation.
Education
Santa Clara University, BS in Marketing
Professional Associations & Designations
Michael currently serves on the Board of Directors of both the Housing and Building Association of Colorado Springs and the Colorado Association of Home Builders. He is a past Board Chair of the Realtors® Commercial Industrial Society (now SCCB) and was recognized by the Colorado Springs Business Journal as a "2010 Rising Star" for his professional accomplishment and civic involvement.
Transaction History
Gateway at Interquest

(57.4 acres – future hospital) $30,000,000

Powerwood Multifamily

(29.3 acres – planned apartments) $4,600,000

Ventana

(175 + acres – bank owned residential development) $3,913,000

Forest Meadows

(96+ acres - planned development) $3,100,000

Sanctuary at Peregrine Development

(finished lot sales) $2,915,000

Briargate Business Campus

(15.4 acres—planned apartments) $2,613,600

The Pines at Forest Meadows (

38.22 acres—planned townhome project) $2,800,000

Sentinel Ridge Senior Living

(15.26 acres – planned senior housing) $2,400,000

Research & Scarborough

(15.4 acres—multifamily land) $2,550,000

Austin Heights Subdivision

(finished lot sales) $2,452,000

Powers Office Park

(16.8 acres – planned business park) $2,395,000

Misty Acres

(92 acres - bank owned planned development) $2,350,000

Freedom Heights Subdivision

(finished lot sales) $2,346,000

Bison Ridge at Kettle Creek

(8 acres—multifamily land) $2,296,000

Riverbend Crossing

(53.04 acres -planned residential development) $2,280,000

Affinity at Colorado Springs

(6.89 acres – planned senior housing) $2,175,000

4 Way Ranch Phase #2

(765 acres – planned residential development) $1,900,000

Woodmen Heights Commercial

(38.22 acres – bank owned commercial land) $1,650,000

Soaring Eagles

(16 acres—Multi-family land) $1,600,000

Tuscany Ridge at Mesa Village Subdivision

(Lot sales) $1,564,000

Wild Oak Farms Subdivision

(Lot sales ) $1,518,000

Monument Ridge

(16 acres - retail development) $1,500,000

Copper Range Apartment Site

(13.2 acres - multifamily land) $1,450,000

Copper Creek Apartment Site

(9.87 acres – multifamily land) $1,450,000

Traditions at Colorado Springs

(6+ acres – planned senior housing) $1,372,140

First Evangelical Free Church

(7.79 acres – planned church) $1,339,068

Centennial Glen Subdivision

(Lot sales ) $1,105,000

Bell Tower Condos

(bank owned - condo development) $1,100,000

Eastbrook Development

(bank owned - finished lot sales ) $1,085,000

Gripstone Climbing gym

(2.51 acres – planned climbing gym) $1,148,024

University Park

(4.74 Acres—multifamily land) $1,000,000

Appletree Golf Community

(220 acres – lender owned golf course and residential development) $1,000,000

Jayden at Woodmen Heights

( 1.5+ acres – planned gas convenience store) $980,100

Countryside South

(170 acres – bank owned residential land) $950,000

Venetucci

(16.05 acres – bank owned multifamily land) $930,000